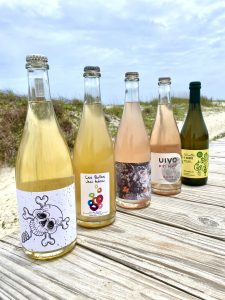 Meet the young, hip cousin to Champagne, the Pet Nat.  Crown capped halfway through fermentation, the Pet Nat bubbles come from the natural process of fermentation within the bottle.  These 5 Pet Nats from our collection will set you up for the summer season.  Light enough to sip daily, but complex enough to leave you wanting to learn (or drink?) more.
Gonc Canvas Rose Pet Nat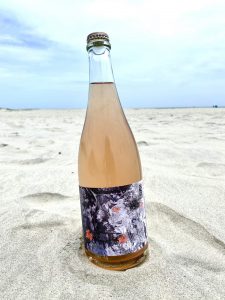 Red berries and floral qualities put on a strong show with more subtle hints of spice and fresh, earthy tones in the Gonc Canvas Rose Pet Nat.  This pet nat is easy-going and compatible with a variety of pairings, ranging from burgers to tuna sashimi to got wings.  Fun Fact: Gonc is a name for a 136 liter barrel they produce in Hungary, where the Gonc family calls home.  The 136-dots on a handful of their wines' labels pay tribute to this family history.
Folias de Baco Uivo PT Nat Rose
Offering delicate notes of raspberry, orange blossoms, sour cherry, and a touch of fresh pepper, the Folias de Baco Rose Pet Nat is equally as complex as it is refreshing.  This Pet Nat is created with 100% Pinot Noir grapes hand-harvested from 18-year-old vineyards clinging to slopes of schist and granite.  The innovative young winemaker of Folias de Baco, Tiago Sampaio, combines the traditions of his homeland (Duoro, Portugal) with his learned modern practices to create a beautiful collection of spunky wines.
Blacksmith Barebones Pet Nat 2020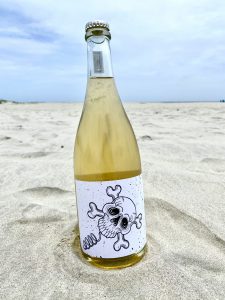 This 100% Chenin Blanc Blacksmith Pet Nat is one to remember.  The grapes are whole bunch pressed, allowed to settle in the tank overnight, and then racked off the heavy sediment into a stainless steel tank.  Curated with a fine, natural carbonation, the Barebones Pet Nat is full of refreshing, light bubbles.  The Blacksmith winemaker, Tremayne Smith, focuses on making fresh, structural wines with soul and grip, which is just what you will find in this bottle.
Jean Aubron "Les Bulles" Pet Nat of Melon de Bourgonge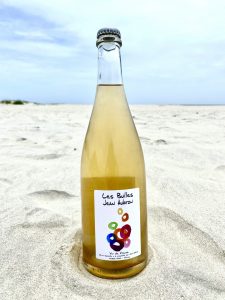 In this bottle, you will find a taste of the Loire, France region.  Jean-Pascal Aubron's family vineyard, Grand Fief de l'Audigère, sits upon volcanic rock deposits.  The vineyard's soil allows the Melon de Bourgogne grape to fully express itself while maintaining its notable acidity.  Although this is Aubron's first attempt at a Pet Nat, the result is fascinating; refreshing bright notes of soft lemon, crisp minerality, and a hint of salinity.  After a few glasses, this bubbly will become a go-to year-round.
Folicello Bianco Pet Nat Ancestrale 2018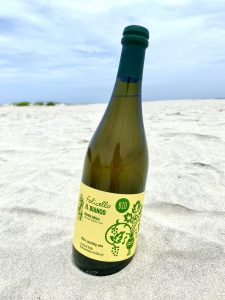 If Spring could be bottled, it would be the Folicello Bianco Pet Nat.  This sapid, elegant pet nat packed with freshness is the perfect porch-sipper.  This natural white wine calls Modena, Emilia-Romagna, Italy home and is a blend of organically-grown Montuni, Pinot, and Trebbiano grapes.  The Emilia-Romagna region is rich with culinary tradition and this pet nat made with the "ancestrale" method fits right in.
Interested in adding one of these to your collection? Email us at hello@grassrootswine.com or DM us on Instagram