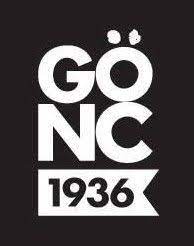 Ptuj, Slovenia
Gönc Winery: A Modern Musical Haven in an Ancient Village
by English Srader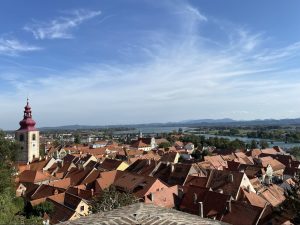 Behind the ancient city of Ptuj there are rumblings of rock n' roll music, fragrance of funky ferments, and possibly even UFO sightings. Here lives the one of a kind Gönc Winery.
Peter Gönc's first vintage was in 2014 out of his garage. Peter considers himself new to winemaking despite having deep running roots with both his father and grandfather's reputations as wine legends in Slovenia. Peter's father Albert AKA 'NiNi' still farms the 28 acres of Gönc vineyards, which is the primary source used for production. They also purchase some fruit from a handful of other trusted organic local farmers around Ptuj.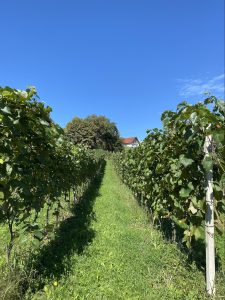 Gönc's unprecedented growth since the first vintage has required the physical space of the winery to expand. In addition to his garage, Gönc has constructed an entire winery full of fiberglass tanks, additional storage for equipment, and a small bottling line. 
As a winemaker, Peter is extremely hands on and questions everything. Though he believes winemaking is a sensory artform, he is extremely logical in his decision making. He is not afraid to question tradition and seek out creative solutions. Being a small family owned winery there is a nurturing sense of care taken at every step throughout production from growing the grapes to bottling.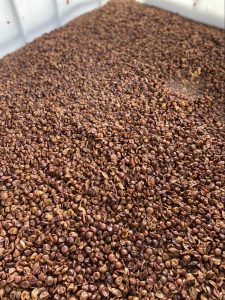 "Everything you do to the wine takes something away from it. Less intervention means more character."
Not stifled by tradition, you can always expect new delightful experiences when enjoying Gönc wines. From extended skin contact Pinot Gris to funky co-ferments, Gönc is not afraid to experiment with each vintage. There is always work to be done in the winery. As fruit arrives throughout the day there are two directions it can go after being crushed and destemmed. Either directly to juice pressing from the skin of the grape, or into bins for 'skin contact' wines. The pressed wines are pumped from fiberglass tanks into the winery to begin the fermentation process. Ferments must be closely monitored by the winemaker's nose, sniffing out unwanted reduction.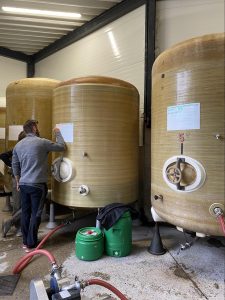 Alternatively, during skin contact fermentation the grape skins separate from the juice and float up to the surface of the bin creating a seal or "cap". This cap keeps oxygen from getting in, and must be "punched down", essentially mixing the wine and once again allowing oxygen exchange. These laborious punch downs happen three times a day until fermentation is complete and can also be pumped into the tank.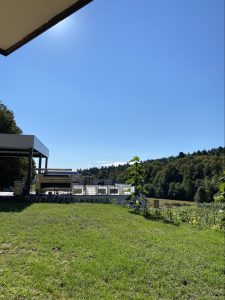 Just like every wine region around the globe, Ptuj is experiencing the effects of climate change. This has been the hottest growing season yet. The implications of excess heat means dry soil and fast-ripening grapes. What is normally a two month stretch of harvesting was frantically shortened to just over one month. Not picking and processing the grapes quickly could result in vintage disaster. When asked about how Gönc will adapt in the coming years to climate change, Peter replied with a stoic optimism- "We can only ever adapt. Perhaps we will grow oranges and make a new kind of orange wine."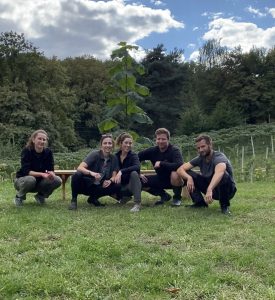 Other than adaptation, Gönc is striving to hire more employees and implement solid systems in the upcoming years. This increased efficiency will allow more time for wine-making creativity. The future is bright for this little rock n' roll winery in Slovenia. Cheers to growth, adaptation, and not being afraid to get a little funky!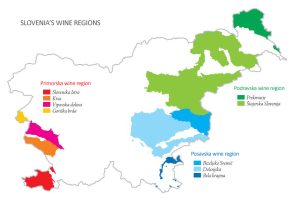 Gonc is located on the Eastern side of Slovenia in Stajerska Slovenija.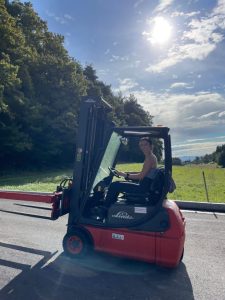 English in her element at Gönc Winery!