In September I had the amazing opportunity to go to Germany with Kevin Pike, owner of Schatzi Wines. Kevin gave us a warm German welcome upon our arrival at the airport complete with an array sausages, some I am fairly certain were raw! Eeek! But when in Germany, do as the Germans do. (I believe I may be one of the sole reasons Kevin chose Germany as a core piece to his portfolio!) The group was a small group of 7; Kevin, two sales reps from a Wisconsin wholesaler, a NYC retail owner, a wine director from San Francisco, a Master Sommelier from Chicago, and myself. Wow! With a group like that, I learned so much just from riding in the Leitz bus traversing the beautiful country of Germany!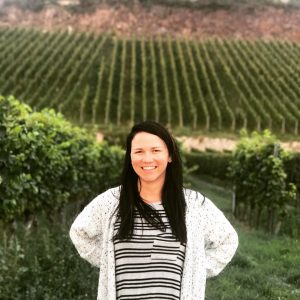 First stop, Bechtheim to meet Jochen Dreissigacker (Rheinhessen). Jochen avidly practices organic viticulture and gave us a very informative lecture on organic agriculture while we tasted through his 7 current bottlings. After the tasting, we were invited to his family home for an  amazing meal prepared by his mother. We also had the privilege of tasting Jochen's first vintage;  a 2001 Weisser Riesling Spatlese – phenomenal! If you are ever in Bechtheim, this picturesque winery is a must see, not only for its beauty, but for the resounding quality of organic wines.  
Next stop, Ihringen which is roughly two kilometers from Alsace. We spent the late afternoon and evening with the winemakers; the renowned and delightful Dr. Heger and his son. Dr. Heger and his son were welcoming and warm and Dr. Heger was especially comedic, lots of laughter was shared at the dinner table that night! One of the more memorable stories that he shared with us was about his horse, Willy. There are parts of the Heger vineyards that you can not get tractors or any equipment in, so he has to do it with Willy. Dr. Heger is incredibly fond of Willy, so much so that he named a wine after him!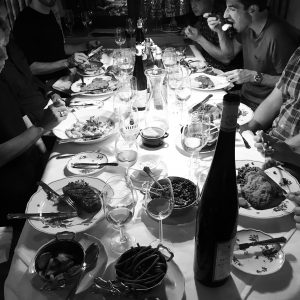 At the time, Dr. Heger was well into harvesting both his reds and whites as nearly all of Germany had an early harvest this year, around 3 weeks earlier than normal. He has the oldest vine in Baden, a Yellow Muskateller that produces a sugary fruit. Dr. Heger grows Riesling, of course, but also is passionate about German Pinot Noir. He's quite good at it! He also grows Silvaner; a less commonly known grape, but should you come across one, try it for sure!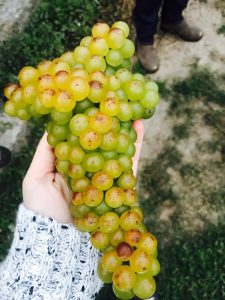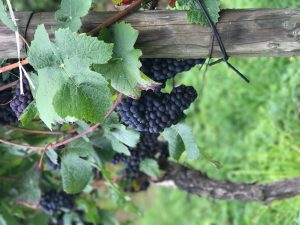 The next morning we went to Remstal to meet Mo(Ritz) Haidle – Weingut Karl Haidle. Ritz is a vibrant, authentic, and eclectic 30-year-old winemaker with a background that makes him even more fascinating! He wasn't really interested in taking over the family business, instead he was fascinated with fast cars and hip-hop. After a short stint exploring his other options besides the family business, he took over winemaking. As a young VdP member, Ritz has brought a unique spin to the wine industry. He infuses his personality, character, and passion for hip-hop and graffiti in his wines while maintaining and respecting the tradition of this region and family. His wines are exceptional! The vineyards sit amongst the hillside where the Duke's summer home was. The ruins are still there and you can climb to the top and look over the hills. If you're ever near Stuttgart, hit him up. He will not disappoint with his vivacious, lip-pierced smile and fun attitude! If you ever have the opportunity to purchase Karl Haidle wines, DO IT! The Karl Haidle wine coming to my house is 2016 Stetten Riesling Kabinett"Pfeffer".
Later that day we ended up at Spindler. Oh, Markus! Such fond memories we made with you in the fabulous two days we spent with you. First, we must mention the Fire/Ice Battle between Spindler and Donnhoff. There were signs all over the place for the wine battle between these two.(We are betting on Spindler!)  Someone will end up bending the knee. For Spindler to be in the ring with Donnhoff should tell you enough to make you want these wines!
After dinner that night, we wound up at the largest wine festival, not only in Germany, but in the world, with almost 700,000 other people. A field outside of Bad Durkheim turns into an amusement park with thrill rides, a street food market, and taverns… lots and lots of taverns. We showed up late, it poured down rain, we sang a lot, we drank from dubbeglas, went north of the wall, and eventually ended up having to call Markus' extremely kind wife to pick us all up!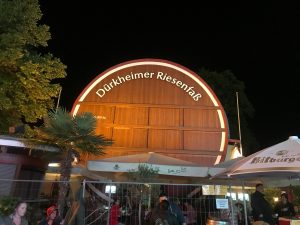 The next morning, bright eyed and bushy tailed, Spindler took us on a beautiful hike through the vineyards showing us all his Riesling and Sauvignon Blanc. There is a monument to the Spindler family on the hillside because they have been growing wine in this region since 1656. Following our vineyard stroll, we tasted through his portfolio. I must recommend the 2017 Sauvignon Blanc! Legit!
Next stop, Von Hovel in Mosel. The most interesting thing we learned here was the process of making a Kosher wine. This was Von Hovel's first experience with making a Kosher wine as well. In fact, they had not even tasted it yet, until we tasted it with them. The rabbi's come to the winery and lock themselves in the winery.  No one can enter that isn't part of the Jewish ritual! Von Hovel gave the rabbi's a book of how to make the wine and once they were finished the bottle product sat wrapped until it had been blessed and was ready for labeling. We were able to taste the wine – and it was beautiful. If you're looking for truly Kosher Riesling, pick Von Hovel's!
After our winery visit, Von Hovel took us on an exclusive tour of the city of Trier. Wow! First, let's shout out to our knowledgeable tour guide from Arkansas who kept a fast pace to show us everything Trier had to offer. There is so much history here. Karl Marx was born here, Von Hovel's golden cup that was presented to Napoleon resides in the museum here. There is a Catholic Church and a Protestant Church next door to each other, the Basilica, and beautiful parks! After the tour we ate an amazing dinner with a guest of honor, Lars Carlberg, one of Kevin's dear friends. It was interesting to have conversation with Lars on wines of the Mosel.
The following morning, we headed north along the Mosel to Bremm to meet up with the Franzen's at their vineyard which is the "Steepest Vineyard in the World!" We got to ride the near 90-degree angled monobach (train-wagon-lawnmower) to the top. It is a two-person ride and I am fairly certain that Ken will never like me again after I held on to him for dear life, certain we were going to plunge to our death (all while I risked our lives even more by having a selfie stick in play). However, once we got to the top, the view was worth every terrifying moment of the 10 minutes to the top. This young family got slung into the wine business a little sooner than expected due to an unfortunate accident involving Killian's father. So, at age 20, they took over Franzen. Now 7 years later with  a daughter of their own, they acquired the entire hillside his father was trying to put back together before he passed.  These two are making a mark for themselves! They  keep the tradition of the Franzen wines that his family produced, but also make one wine a year with their own twist on it. I encourage you to buy Bremmer Calmont wines.  My favorite would have to be 2016 Bremmer Calmont Riesling Grosses Gewachs. Buy it! Drink it! You won't be disappointed!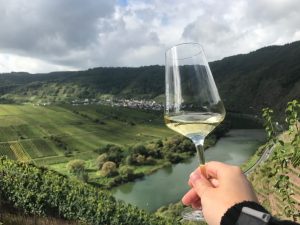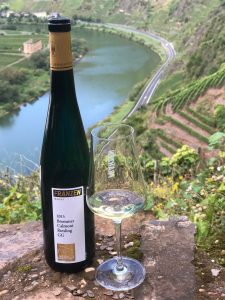 Mosel-Terrace. Knebel. Wow. What a place. His vineyards are extremely steep as well – as we rode in the back of his vintage Mercedes truck to overlook the Mosel River at the beautiful place that he is blessed to call home. Matthias is full of passion, depth, and mystery. He is one of the newest members of the VdP and is carrying on the tradition of his father and his forefathers. He and his mother run the winery, working the steep vineyards with a thin crew, and making only the best wine. Each of his vineyard sites seem to have their own microclimate, which allows him to make such amazing wines. All of these wines are in stainless steel and most of them are dry. My recommendation from his lineup is the 2016 Riesling 'Von den Terrassen'.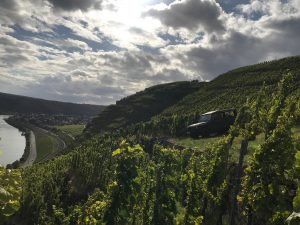 We ended our trip with Josi Leitz. Such a perfect ending to a perfect trip. Josi was on his way back from holiday when we arrived, so we got to spend some time at the tasting room, which is the sleekest tasting room ever! Kevin gave us the opportunity to taste through an Austrian and Swiss lineup. I could write 10 pages about Josi and his background and it still wouldn't be enough of a dedication to this man. From the things his family has triumphed over to the generosity he shows, Josi Leitz is one of a kind! His wines are a true representation of himself and the people he surrounds himself with. He is humble and kind. His wines are humble, but some of them have a big story to tell. His newest passion is a non-alcoholic Riesling. Now, before you go thinking "grape juice", after we all gave it a try, it tasted like, well, Riesling! He makes it through the wine making process and allows the alcohol to boil off at a particular temperature. It preserves the wine aroma leaving the resulting taste and smell very similar to a true Riesling. I encourage you to get it! It is called 2016 Leitz Eins Zwei Zero Riesing (zero meaning zero alcohol.)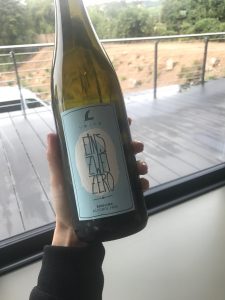 The following morning it was raining a good bit, so we spent the morning roaming Rudesheim. I rode a gondola in the sky to Germania,  little did I know at the time that the vineyards I was cruising over were Leitz. Even on the rainy day, Rudesheim is beautiful and full of history. We concluded our trip with a very intimate dinner with Josi – we all went grocery shopping together and made dinner side by side – just taking in each moment. Josi surprised us at the end of dinner by bringing a Gelato truck to the winery just for the 8 of us! (and he even made sure they had a dairy-free option for me!)
I am very blessed in the opportunities I have been afforded while working for Grassroots Wine over the past nearly 4 years. This trip has by far had the largest impact on me, personally, emotionally, and educationally. Thank you, Kevin, for the unforgettable experience! If you've ever had the opportunity to meet Kevin Pike, even for a short time, then you know he is a man full of heart. He is intelligent, educated, funny, but most of all, kind and gentle. After spending time in Germany with him and meeting these young winemakers that he has found and chosen to become family with and represent their wines; it is very apparent to me that Kevin chose the wines not just because of their quality, but because the quality of the wines exceptional which is due to the talent and dedication of the individual winemakers. These young winemakers have a story, most really pull at the heartstrings. It is my opinion that the soul of these winemakers has shaped their juice, their art, their lives – there is a lot of heart in each of these wines.