Our sales representative, Kimberleigh, was given the opportunity accompany one of our wonderful importers, JP Bourgeois, to France. Read below for her personal account of drinking and eating her way through this incredible trip! 
Our long time friend and importer, Jean Philippe Bourgeois, gave me the opportunity to accompany his team to France in January 2017. This trip was not for the faint of heart, as we travelled over 3300km in 6 days and visited 16 wineries across the French countryside. BOY! Was it worth it!
Starting out in Champagne at Champagne Philippe Fonatine, Salome Fontaine and her husband Loius-Antonie Garcia, the 6th generation of her family to live and work the farm in Champagne, walked us through the snow covered vineyards, through the winery and production area, explaining the traditional method of champagne making. Lunch was served in their old farmhouse that is now typically only used in the summer to host parties. Full of bubbly Grower Champagne, we headed south.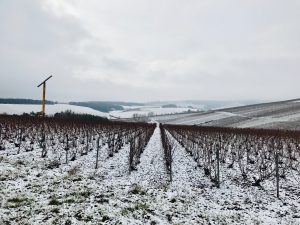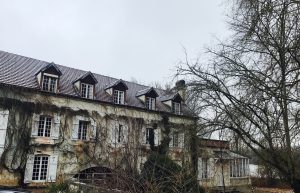 Next stop – Domaine des Gerbeaux. This 5th generation estate has 13 hectares spread over the communes of Solutré, Fuissé, Chaintré and the hamlet of Pouilly. The Drouin Family showed the team their entire process in their small estate winery, which was accompanied by their family pup. By day 2, this Coastal Alabama girl was really feeling the -10 Celsius weather and welcomed the indoor, heated tasting room (and by heated, I mean it was roughly 40 degrees inside, but was ever so welcomed!). After we tasted a horizontal jaunt of Pouilly-Fuissé and Macon-Village, I got to experience my first, of very many, fois gras courses! If you are ever feeling a bit skinny and need to pack on some winter warmth, head over to France and eat your duck liver heart out!
From there we went to Restaurant Chez Serge, a lovely restaurant in Carpentras, to meet with the winemakers of Elicio, In Fine, and Cascavel. If ever in Carpentras, you must over indulge in truffles!
Later that afternoon, we continued into the Rhone Valley to Domaine de la Berthete. Remember I mentioned that it was quite cold, but even better, this time of year the mistral is really kicking up, so if you don't hang on, you will blow away! January is the time of year that the wineries are cleaning up their vineyards, pruning, and trimming the vines back. We got to spend some time admiring the lone vineyard employee with his face barely visible from the hoodie pulled tight to his face and his gloves oversized, while he moved with great intensity and preciseness through the vineyards with his clipper, trimming away and carefully stacking the clippings in the middle of the rows. I mention this because it is in these moments that you have to stop and remember that every movement matters with these special family-farmed estates that Grassroots proudly works with. It is a farmer, not a machine, working the fields.
I did climb into a vat (empty) – slightly terrifying – while we barrel tasted through their Chateauneauf-du-Pape's and Cotes-du-Rhone's, sprinkled with a white and the ever-so-prevalent this time of year, rose. I did get them to say "Roll Tide!", although I am fairly certain they had no idea what it meant.
As the afternoon started to come to a close, we still had two more stops to go! Next up, Domaine de Chateaumar! Whoop whoop! One of South Alabama's favorite Cotes-du-Rhone, Cuvee Bastien, is made here. This father-son, 4th generation estate has 10 hectares in CDR and 5 hectares in CDP. The backdrop is beautiful, with the large pebbled vineyards with perfect lines and picturesque colored soil. We got to tour the winery with the next generation winemaker in training, Bastien (adorable boy and full of knowledge, eager to follow in his father's footsteps) and scoop our wines out of the tank. We tasted through all of their loved wines, including the limited Perle-du-Rose.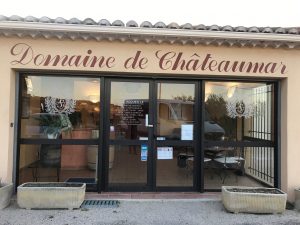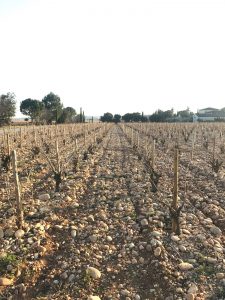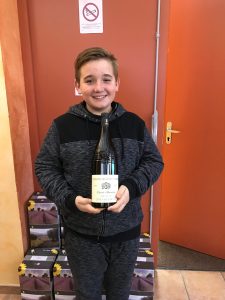 To conclude the evening, we went to Domaine Jerome Gradassi in Chateauneuf-du-Pape. Before we got to the winery, we did stop at the Castle of Chateauneuf-du-Pape! The sun had set, so it was only lit by the orange glow of a few lights, but we wandered through the castle's remains and imagined what it would have been like to be the Pope living in such a time in such an amazing place!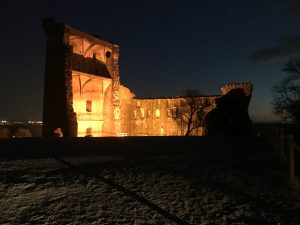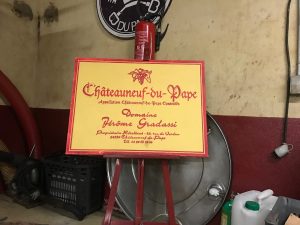 I cannot say enough about Jerome Gradassi! What an incredible man with a passionate story. It was night, so we did not visit the vineyards, but we did taste through a vertical of CDPs in the ancient cellar. The cellar has been in his family for many, many generations. Jerome owned a Michelin-star restaurant, but chose to take over his grandfather's winery in 2004. He is the smallest producer in the appellation, with only 8 hectares, but he is making quite the impression on Chateauneuf-du-Pape. He only makes one red and one white. Very charming man, but remember I said this place was very old? Picture this: -15 Celsius, a outhouse made of washboard, and literally a hole in the ground. We all laughed – the ladies laughed awkwardly, as the men got a good hearty laugh.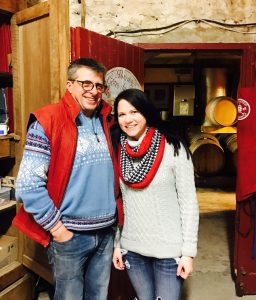 In the morning, we travelled to Provence to visit Chateau des Annibals! Wow! What a getup! This is a state-of-the-art, living-on-a-dream, zero-waste, AMAZING place! While we were there, they were bottling the rose that was labeled (Grassroots Wine Wholesalers). How fun! It was such a treat to meet Natalie and her team, have lunch in her home, and rev up her WWII, completely restored, Jeep!
We ended the day in the medieval city of Carcassonne. I wish we had longer to visit this walled city, but if you are ever in the South of France, stop by and walk around!
In the morning we ventured on to Limoux. The Limoux-ians argue that this is where sparkling wine was born … and I sure wasn't arguing with the completely adorable, kind, gentle man that is Jaques Calvel. This is where Bellula Sparkling wine is made. From the excitable, quirky laughter to the wall of 200, 000 hand placed bottles, this estate is one to put on your bucket list. We visited the top of the vineyard where his most prized vines are, ate more food than we should have, and didn't want to say goodbye to this team that welcomed us into their hearts.
The next two days were spent romping around in Downtown Bordeaux and the chateaus in the country. Bordeaux is a bustling city with, what seemed like, more people and faster cars than Paris! We had a seminar with several of our producers in a quaint restaurant in the city over dinner where we got to enjoy a 2002 Chateau Mouton Rothschild Pauillac and a 2003 Chateau d'Yguem Sauternes. We also visited Chateau Roc Meynard and traversed the vineyards and defeated arguably the longest lunch I have ever experienced where the food literally never stopped coming and I never stopped eating! (Thank goodness the lady of the house asked if I wanted to take a walk in the garden after lunch because I sure needed to stretch!)
A short stop in Bourgueil and then finished our tour in Sancerre! Our hotel was at the peak of Sancerre, over-looking the walled city and all the vineyards covered in a beautiful dust of snow. It was very special to end our trip at Domaine Elisa Gueneau. She has followed in her father's footsteps and is teaching her children to follow in hers. She owns 14 hectares in Sancerre (which is more than most) and she produces a Rouge, Blanc, Rose, and a very limited amount of Silex. This, much like Natalie in Provence, has been updated to be able to be a one-woman show if the need were to arise. She has an overlook in the winery where she can sit and watch her hard labor become beautiful juice. Ending our trip to the wine country with a family dinner with her parents in their home was the calm after the whirlwind week we had!
We traveled back to Paris and immediately went to the most authentic Italian pizzeria we could find and loaded up on pizza and rose! I do not think I will need any more fois gras for at least 5-10 years 🙂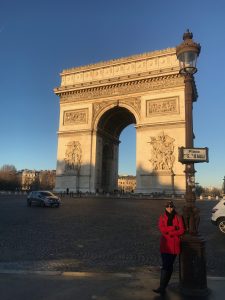 I have said it before, and will continue to say it, I work for such a badass company that opens up the opportunity for me to do and see some pretty epic shit! I am grateful for the friendship of the Grassroots Family for the past 9 years! Thank you, again and again, so much